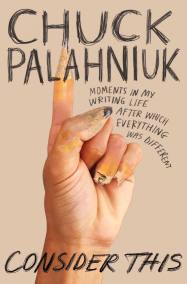 Consider This
Renowned, bestselling novelist Chuck Palahniuk takes us behind the scenes of the writing life, with postcards from decades on the road and incredible examination of the power of fiction and the art of storytelling.

In this spellbinding blend of memoir and insight, bestselling author Chuck Palahniuk shares stories and generous advice on what makes writing powerful and what makes for powerful writing.

With advice grounded in years of careful study and a keenly observed life, Palahniuk combines practical advice and concrete examples from beloved classics, his own books, and a "kitchen-table MFA" culled from an evolving circle of beloved authors and artists, with anecdotes, postcards from the road, and much more.

Clear-eyed, sensitive, illuminating, and knowledgeable, Consider This is Palahniuk's love letter to stories and storytellers, booksellers and books themselves. Consider it a classic in the making.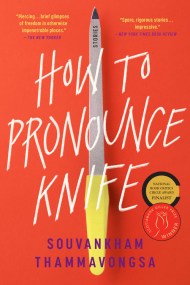 How to Pronounce Knife
A finalist for the National Book Critics Circle Award and the PEN Open Book Award, and winner of the 2020 Giller Prize, this revelatory story collection honors characters struggling to find their bearings far from home, even as they do the necessary "grunt work of the world."
A failed boxer painting nails at the local salon. A woman plucking feathers at a chicken processing plant. A housewife learning English from daytime soap operas. A mother teaching her daughter the art of worm harvesting. In her stunning debut story collection, O. Henry Award winner Souvankham Thammavongsa focuses on characters struggling to make a living, illuminating their hopes, disappointments, love affairs, acts of defiance, and above all their pursuit of a place to belong. In spare, intimate prose charged with emotional power and a sly wit, she paints an indelible portrait of watchful children, wounded men, and restless women caught between cultures, languages, and values. As one of Thammavongsa's characters says, "All we wanted was to live." And in these stories, they do—brightly, ferociously, unforgettably.Unsentimental yet tender, taut and visceral, 
How to Pronounce Knife
 announces Souvankham Thammavongsa as one of the most striking voices of her generation.
"As the daughter of refugees, I'm able to finally see myself in stories." —Angela So, Electric Literature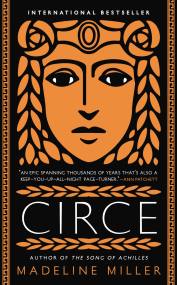 Circe
This #1 New York Times bestseller is a "bold and subversive retelling of the goddess's story" that brilliantly reimagines the life of Circe, formidable sorceress of The Odyssey (Alexandra Alter, TheNew York Times).

In the house of Helios, god of the sun and mightiest of the Titans, a daughter is born. But Circe is a strange child -- not powerful, like her father, nor viciously alluring like her mother. Turning to the world of mortals for companionship, she discovers that she does possess power -- the power of witchcraft, which can transform rivals into monsters and menace the gods themselves.

Threatened, Zeus banishes her to a deserted island, where she hones her occult craft, tames wild beasts and crosses paths with many of the most famous figures in all of mythology, including the Minotaur, Daedalus and his doomed son Icarus, the murderous Medea, and, of course, wily Odysseus.

But there is danger, too, for a woman who stands alone, and Circe unwittingly draws the wrath of both men and gods, ultimately finding herself pitted against one of the most terrifying and vengeful of the Olympians. To protect what she loves most, Circe must summon all her strength and choose, once and for all, whether she belongs with the gods she is born from, or the mortals she has come to love.

With unforgettably vivid characters, mesmerizing language, and page-turning suspense, Circe is a triumph of storytelling, an intoxicating epic of family rivalry, palace intrigue, love and loss, as well as a celebration of indomitable female strength in a man's world.

#1 New York Times Bestseller -- named one of the Best Books of the Year by NPR, the Washington Post, People, Time, Amazon, Entertainment Weekly, Bustle, Newsweek, the A.V. Club, Christian Science Monitor, Refinery 29, Buzzfeed, Paste, Audible, Kirkus, Publishers Weekly, Thrillist, NYPL, Self, Real Simple, Goodreads, Boston Globe, Electric Literature, BookPage, the Guardian, Book Riot, Seattle Times, and Business Insider.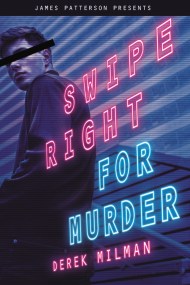 Swipe Right for Murder
An epic case of mistaken identity puts a teen looking for a hookup on the run from both the FBI and a murderous cult in this compulsively readable thriller.

Finding himself alone in a posh New York City hotel room for the night, Aidan does what any red-blooded seventeen-year-old would do—tries to hook up with someone new. But that lapse in judgement leads him to a room with a dead guy and a mysterious flash drive ... two things that spark an epic case of mistaken identity that puts Aidan on the run—from the authorities, his friends, his family, the people who are out to kill him—and especially from his own troubled past.

Inspired by a Hitchcock classic, this whirlwind mistaken-identity caper has razor-sharp humor, devastating emotional stakes, and a thrilling storyline with an explosive conclusion to make this the most compelling YA novel of the year.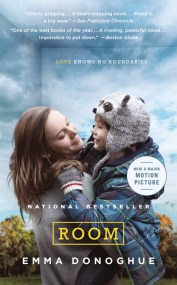 Room
The award-winning bestseller that became one of the most talked about and memorable novels of the decade, Room is "utterly gripping...a heart-stopping novel" (San Francisco Chronicle).
Held captive for years in a small shed, a woman and her precocious young son finally gain their freedom, and the boy experiences the outside world for the first time.
To five-year-old-Jack, Room is the world. It's where he was born, it's where he and his Ma eat and sleep and play and learn. At night, his Ma shuts him safely in the wardrobe, where he is meant to be asleep when Old Nick visits.
Room is home to Jack, but to Ma it's the prison where she has been held for seven years. Through her fierce love for her son, she has created a life for him in this eleven-by-eleven-foot space. But with Jack's curiosity building alongside her own desperation, she knows that Room cannot contain either much longer.
Room
is a tale at once shocking, riveting, exhilarating — a story of unconquerable love in harrowing circumstances, and of the diamond-hard bond between a mother and her child.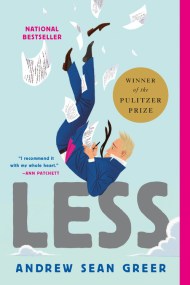 Less (Winner of the Pulitzer Prize)
A struggling novelist travels the world to avoid an awkward wedding in this hilarious Pulitzer Prize-winning novel full of "arresting lyricism and beauty" (The New York Times Book Review).WINNER OF THE PULITZER PRIZE
National Bestseller
A New York Times Notable Book of 2017
A Washington Post Top Ten Book of 2017
A San Francisco Chronicle Top Ten Book of 2017
Longlisted for the Andrew Carnegie Medal for Excellence, the Lambda Award, and the California Book AwardWho says you can't run away from your problems? You are a failed novelist about to turn fifty. A wedding invitation arrives in the mail: your boyfriend of the past nine years is engaged to someone else. You can't say yes--it would be too awkward--and you can't say no--it would look like defeat. On your desk are a series of invitations to half-baked literary events around the world.QUESTION: How do you arrange to skip town?ANSWER: You accept them all.What would possibly go wrong? Arthur Less will almost fall in love in Paris, almost fall to his death in Berlin, barely escape to a Moroccan ski chalet from a Saharan sandstorm, accidentally book himself as the (only) writer-in-residence at a Christian Retreat Center in Southern India, and encounter, on a desert island in the Arabian Sea, the last person on Earth he wants to face. Somewhere in there: he will turn fifty. Through it all, there is his first love. And there is his last.Because, despite all these mishaps, missteps, misunderstandings and mistakes, Less is, above all, a love story.A scintillating satire of the American abroad, a rumination on time and the human heart, a bittersweet romance of chances lost, by an author The New York Times has hailed as "inspired, lyrical," "elegiac," "ingenious," as well as "too sappy by half," Less shows a writer at the peak of his talents raising the curtain on our shared human comedy."I could not love LESS more."--Ron Charles, The Washington Post"Andrew Sean Greer's Less is excellent company. It's no less than bedazzling, bewitching and be-wonderful."--Christopher Buckley, The New York Times Book Review
Bold Recommendations, Ep. 2
Women's History Month 2019, Episode 6
Women's History Month 2019, Episode 1
Douglas Preston Recommends
Shelf Life Presents "HEIDA: A Shepherd at the Edge of the World"